Cruisin for Hope with Hopp Racing
Posted:
Updated: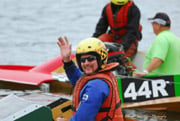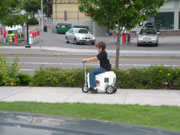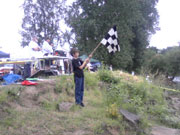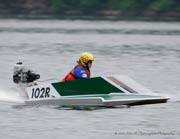 The Hopp Racing team took the "Big Yellow Boat" to Milwaukie, Oregon June 13 & 14 to help a GREAT cause. It's "Cruisin For Hope" - put together to benefit kids with life threatening illnesses. We couldn't go on the water, but we made a lot of NOISE!!! We trailer fired the boat several times for TV, and the crowd. Both loved it! Greg put kids in the cockpit. They all want to be boat racers now. We helped raise a lot of money.
We took some pictures. The "Pink Panther" Peyton Hopp, Greg's son, showing signs as a 3rd generation boat racer by driving an electric powered cooler to a new speed record. He's so fast, he gave himself the checkered flag!!! WOW!! The race pits are pictured and look at the boats. Some terrific action with the outboards. Greg visiting friends he hasn't seen in 12 years. Greg got in a 20SS outboard hydro for the first time in over 20 years. He gave a perfect example on how NOT to drive an outboard hydro. Bad start, spun out, ran over a buoy an mashed it and s few other items. We hear Rick Sandstrom head referee wants to put rookie stripes back on Greg's helmet.
The whole time was a BLAST!! One BIG feel good for Hopp Racing. Thanks to Mark, Cindy, Erick, and everyone at http://cruisinforhope.com/?cat=4. Continued recovery for officer Damon Coates. A truly "Amazing" individual. A police officer shot in the line of duty and almost lost his life. Damon is spokesman for Cruisin For Hope.
This year 2009, the Cruisin For Hope focus family lives in Milwaukie, Oregon and is facing incredible challenges.
The Wischnofske's, Ted and Amanda, are in their early 30's and have three beautiful children. They are however dealing with enormous medical challenges. Their eldest child, seven year old Chance, is currently on the Make a Wish Foundation wish list. Like most children his age Chance just wants to go to Disneyland, except he has Cystic Fibrosis. Because of his Cystic Fibrosis, Chance will likely soon require total lung replacement surgery, assuming donor organs can be acquired. Unfortunately, even such extensive surgery will not be enough, he would likely continue to require a heart transplant which is not covered by the family's health plan.
Pictures by Julie Sparrowgrove