Yakima's City Limits Tripled and Keeps Growing
Posted:
Updated: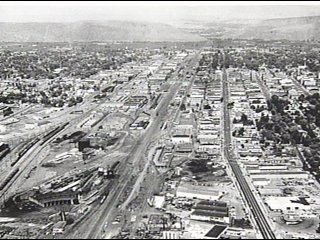 YAKIMA, Wash.- KNDO is celebrating its 50th anniversary in Yakima. Like KNDO, the
Yakima City Limits drastically expanded and keeps growing.
Heavy traffic is normal for streets like 40th Avenue in Yakima, but it wasn't always like that.
"There was hardly anything but sand and hills," said Fred Valenzuela, who's been living in Yakima for over 50 years.
"There were orchards on both sides," said Bruce Benson, a city employee and Yakima resident.
City Planners displayed maps that outlines the city limits, comparing Yakima from the 1950's to what it is today. Pictures taken over 50 years ago show the city was still in its first stages of growth, and now, Yakima has more than tripled in size and doubled in population. Without big streets like 40th Avenue, neighbors say getting around wasn't so easy.
"Before it was built I had to go up Pecks Canyon to go over that part of town," said Benson.
The city has also moved Westward. Fifty years ago, neighbors say there were hardly any developments.
"I could travel all the way to west valley and count the number of homes and my fingers and toes," said Benson.
While Yakima transforms and grows, neighbors say its same small-town feel is what keeps them around.
"That what I like. It's like the twilight zone, you don't have to worry about going too fast," said Valenzuela.
Neighbors say they're excited to see downtown growing and hope it will be as busy and booming as it once was.