Cherry Harvest Heats Up
Posted:
Updated: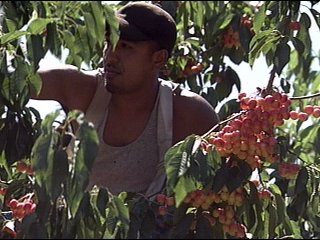 YAKIMA VALLEY--The big day's almost here for cherry growers.
Business is booming at Cleveringa Orchards.
The weather's great this year, helping to produce nice bings.
"They look bigger this year," Carmen Delgado said. She's in her second year picking at Cleveringa. "Last year, [cherries were] kind of like small."
Owner Scott Cleveringa expects to pick a thousand bins this year. That's good news for workers.
"We definitely hired more [pickers] this year because we definitely had more cherries to pick," Cleveringa said. "We tried to shorten that window [of time] to get as many picked as possible as quickly as possible."
They hired twice as many people as last year: roughly 70 pickers.
But, it's a different story at Barrett Orchards in Yakima.
There, the bing cherries are still too small to be worth picking. Workers that were here Monday and Tuesday were told to stay home until the cherries get bigger.
Wednesday, only ten workers were left to pick Rainier cherries. That's 25 fewer than Tuesday.
Even though Barrett has three times more cherries than in 2008, this crop doesn't size up.
"The fruit set real hard," Mark Barrett said. "Because there's so much fruit on every tree, they're not sizing as well as [they] would in most years."
Barrett said bigger isn't necessarily better.
"[Customers] might buy first on impulse on size, but flavor's always what makes them come back," he said.
Barrett said flavor is good this year, and there's still time for late-blooming cherries like Lapins to grow.
At Cleveringa, they're trying to finish up the harvest Wednesday. But, cherry season is not over yet.
"I think overall there's a lot of cherries out there," Scott Cleveringa said. "The challenge is going to be to sell them all."
He said it's too early to know how much they'll make off this year's crop.