World War II Vet Honored After 60+ Years
Posted:
Updated: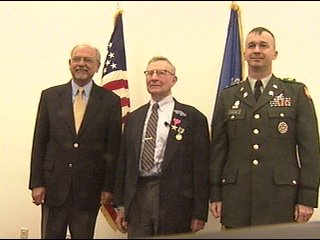 YAKIMA VALLEY--63 years after his service in World War II ended, a local veteran is finally honored.
Dee Eberhart used to hear the guns go off at the Training Center when he was growing up in Toppenish. Now he's at the Yakima Training Center to be honored for his service during World War Two.
Ten days after graduating from Toppenish High School in 1943, Eberhart was called to duty.
He served three campaigns in Europe as an army sniper. Now, more than 60 years later, he's getting medals he earned decades ago.
"I knew I was entitled to them, but I never did anything about it and somebody else did and who that somebody is I'll probably never know."
Among those eight medals, the Bronze Star, which is awarded for bravery in combat. Eberhart tells of tough times in the trenches.
"Three foxhole buddies, one after the other, picked off right beside me," Eberhart said. "We were out of replacements. I was by myself."
Eberhart waited a month for replacements. He said that was just one close call in a charmed life.
"The platoon I was in probably had 90 percent casualties more or less," Eberhart said. "My squad had 100 percent casualties."
Fellow patriots packed the conference room at the Training Center, including several of Eberhart's seven children.
"I just have great admiration for him and everything that he has done for our country," Urban Eberhart said.
Urban says his dad did not encourage his kids to join the military ... But he taught them to respect the armed forces.
"Everything that they have gone through to get to where we are and don't forget the atrocities that have occurred and do everything we can to make sure they do not repeat themselves," Urban Eberhart said.
Dee Eberhart still does his part, speaking at the Holocaust Center in Seattle.
Eberhart is a modest man; he actually wanted the medals mailed to him.
But, his family's glad they can finally honor this great veteran.