Naches Rail 2 Trail Project , Expanding the Greenway
Posted:
Updated: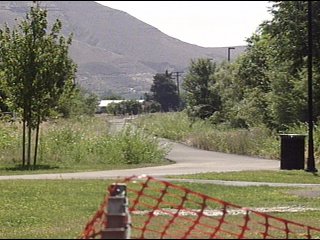 NACHES, Wash-- People from all over the Yakima Valley enjoy the Greenway Trail. Many users would like to see even more miles of paved trail. A new project is in the works to expand the Greenway, it's called the Naches Rail 2 Trail Project.
Traveling on Highway 12 you may have noticed something missing, the railroad tracks. Once a shipping route, this stretch of land may soon connect Naches and Yakima for another purpose, recreation.
Yakima County is in the process of removing the old rails. Once the tracks are gone that leaves 11 or so miles of potential trail route. The City of Naches has already paved a mile of trail. It starts at their new visitor center and heads East toward Yakima.
"We'd like to see that continue on down to Yakima and meet up with 40th. This one mile we have is used pretty regularly already. I use it about two or three times a week," said Erik Wolfe, mayor of Naches.
Once expanded the trail will double the length of the Greenway, which would be long enough to host large events like marathons. The Greenway Foundation sees the potential but, is working to fund the project.
"It's kind of a grass roots kind of effort where we want the community to come out and buy one foot. Fund one foot at a time," said Jeff Brantner, deputy director, Yakima Greenway Foundation.
You can sponsor one foot of trail for $50. Some larger businesses like Kershaw Fruit are funding a miles worth. Brantner doesn't know when the trail will be done, he hopes within the next few years.
"Being 79 years old I hope it gets done a little sooner," said Dick Kendall, trail user.
To learn more about the Naches Rail 2 Trail Project head to the Greenway's Web site: http://www.yakimagreenway.org/