A Sleepless Weekend For Yakima County Firefighters
Posted:
Updated: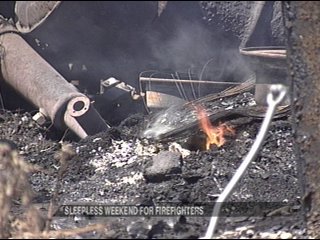 YAKIMA COUNTY, Wash-- You don't have to travel far to see fields in Yakima County blackened and scorched by fires over the Fourth of July weekend. Firefighters have said many of these fires were set intentionally.
A scene of smoldering homes was caused by a young child playing with fireworks Friday night.
The fire, in Harrah, left 19 people without homes. The boy who started the fire is not a tribal member, but because he's underage he can't be held accountable.
Accidents and arson kept firefighters working from sun-up through the night.
"Since Friday till 6 a.m. this morning we had 120 calls with 76 of those being grass fires," said Joel Byam, captain, Yakima County Fire District 5.
Byam said they responded to 11 fires, all within a quarter mile stretch of Winaway Road in Wapato.
Residents watched dry fields go up in flames.

"The next one we saw over here, two of them back to back," said Louie Chaoles, Wapato resident.
"We'll put a fire out and then we'll have another fire that starts right next to it and it's not going to be a rekindle, it's going to be a brand new fire," said Byam.
Investigators are following leads for the fires deemed suspicious. They responded twice to a home in Toppenish. The first time for fireworks, the second possibly arson.
Even during the interview Captain Byam got a call.
"You know this is the beginning of the summer. We're not done yet," said Byam, followed by the loud, "Beep, beep!" of his radio.
Investigators will be busy for a while wrapping up this weekend's fires. There is a reward of up to $10,000 for arson tips that lead to arrests. You can call 1-800-ARSON.