Biodiesel Plant in Burbank Planning to Relocate after Fire
Posted:
Updated: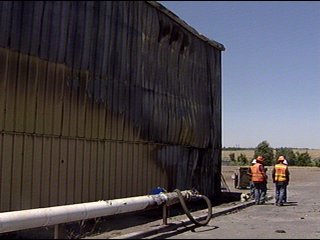 BURBANK, Wash. - Gen X Energies administration is planning to demolish the current biodiesel producing facility and move to a site in Moses lake after a fire destroys it Saturday.
The fire came just hours after the company reached a major achievement.
Gen X Energy Group had just received the gold standard for biodiesel production practices in the U.S. on Friday, and the fire occurred on Saturday. Reaching what they call BQ 9000 status means Gen X is now able to produce a high quality of biodiesel fuel and sell it to the top distributors like Conoco and Shell.
"They require biodiesel, not only to meet the requirements of what they call the Federal ASTM standard, they also require the producer to be a BQ 9000 complier producer. It's a major win to get one of those accreditations," said Gen X Energies Spokesman Ramon Benavides.
Gen X is one of only 30 producers in the country that have this accreditation. It's something that has taken Gen X Energies two years to achieve.
But after the fire this weekend, production has stopped and red tape now lines the perimeter of the facility.
The only work being done now on the site is by the National Response Corporation for environmental services. They're testing the sewer system and storm drains for higher than normal PH levels after chemicals were breached during a fire that may have started by fireworks.
There was concern that chemicals may have leaked in to the Snake River but NCR workers proved the river was safe from any contamination.
Hopes of producing and selling the fuel are temporarily put on hold, until the prototype and design to make the fuel is rebuilt.
Meanwhile, the focus now is to find those responsible for starting the fire.
"We've got the Mid-Columbia Regional arson task force looking at this. We have the Walla Walla County Sheriffs offices looking at this. And they are on the road to make sure that they can find a responsible party," said Benavides.
Cameras surround the building as well as the entrance to the business park. Every license plate is recorded as cars come into the industrial park. The Walla Walla County Sheriffs Office is reviewing the security tapes.