Family Reactions From Michael Jackson's Memorial
Posted:
Updated: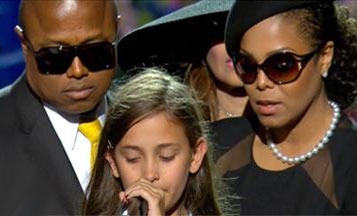 Michael Jackson's daughter broke down in tears as she spoke of her love for him at his memorial service.
Paris - the late 'Thriller' star's second child - joined the late pop icon's siblings on stage at Los Angeles' Staples Center on Tuesday (07.07.09) to pay an emotional tribute to her father.
Paris, 11, said: "Ever since I was born, daddy has been the best daddy ever, and I just want to say I love him so much."
She was then escorted back to her seat by her aunt Janet Jackson with the rest of the family following as a picture of the young Jackson family appeared on a big screen and Michael's coffin was wheeled out of the venue.
The singer's brother Jermaine also spoke for his family, to thank those who attended.
He said: "On behalf of my family and friends I'd like to thank everyone for coming out. We thank you, that's all I can say, we thank you very much."
Michael's brother Marlon spoke about his deceased sibling's struggle to live a normal life while coping with his worldwide fame.
Marlon - who also referred to his twin brother Brandon, who was stillborn - said: "I stand here trying to find words of comfort... trying to find why the Lord has taken our brother after such a short time on Earth. Maybe now, Michael, they will leave you alone... you have finished your work here on Earth, and the Lord has called for you to come home with him... I have one request, Michael, one request. I would like for you to give our brother, my twin brother, Brandon, a hug from me."
Earlier, Smokey Robinson pledged that "his brother" Michael - who passed away from a suspected cardiac arrest last month, aged 50 -would live forever through his music.
He said: "My brother is in a place now where he is most certainly going to live forever. But he's going to live forever twice, because he's going to live forever right here - the world will never, ever forget Michael Jackson."
Prior to group performances of 'We Are The World' and 'Heal The World', Kenny Ortega - who was directing the 'This Is It' run of shows Michael was set to undertake in London from next week - Martin Luther King III and Bernice A. King also paid tribute to the King of Pop, while Usher and 12-year-old 'Britain's Got Talent' contestant Shaheen Jafargholi also performed.
The service ended with Lucious Smith making a final dedication to the singer - who is survived by three children, Paris, 12-year-old Prince Michael I and seven-year-old Prince Michael II, known as 'Blanket'.
Inviting mourners to pray, he said: "My prayer is that this will be more than a memorial to Michael Jackson but a remembrance of what he means to us."
Brooke Shields couldn't contain her emotions as she spoke about Michael Jackson at his memorial service.
The tearful actress failed to fight back tears as she paid tribute to the "one of a kind star" she was rumoured to have dated.
Addressing mourners at Los Angeles' Staples Center - including the late singer's family, who were all wearing a single white sequinned glove in tribute to his famous stage outfit - Brooke recalled the time the late singer had tried to teach her his famous moonwalk dance and when they tried to sneak a glance at Elizabeth Taylor's wedding dress.
She added: "The picture captions used to refer to us as an odd couple. But to us it was the most natural and easiest of friendships. We made it fun."
She also said she used to tease him about his eccentric way of dressing, joking: "I was like, what's up with the glove? If you're going to hold my hand, it better be the non-gloved one, because sequins really hurt my hand!"
Tearfully recalling that Michael's favourite song had been the Charlie Chaplin-penned 'Smile', Brooke ended her speech by referencing the song, saying: "We need to look up, where he is undoubtedly perched on a crescent moon, and we need to smile."
The 'Billie Jean' star's brother Jermaine Jackson then performed the track.
Prior to a performance of Michael's hit 'Human Nature' by John Mayer, long-time friend of the Jackson family Rev. Al Sharpton credited Michael with uniting different racial groups and making it possible for Barack Obama to become the first black US President.
He said: "It was Michael Jackson that brought blacks and whites and Asians and Latinos together.
"Because Michael Jackson kept going, he created a comfort level, where people that felt they were separate became interconnected with his music.
"Later, it wasn't strange to watch Oprah on television. It wasn't strange to watch Tiger Woods golf. He made people comfortable to vote for a person of colour for president.
"I want his children to know, there wasn't nothing strange about your daddy. It was strange what your daddy had to deal with."
Earlier at the service, Jennifer Hudson performed 'Will You Be There' from Michael's 'Dangerous' album and basketball stars Magic Johnson and Kobe Bryant recalled their favourite memories of the pop icon.