Modern Art Proposed for Historic District Causing Some Controversy
Posted:
Updated: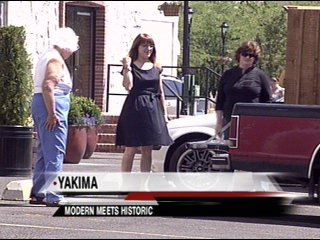 YAKIMA, Wash-- Whether you like Monet, Davinci or Warhol everyone can agree, art is a matter of taste. A sculpture proposed for downtown Yakima is not pleasing everyone.

Historic Front Street has been revitalized, but some fear a new art piece might not blend with the street's historic designation.
Some say downtown Yakima is in a renaissance, with that comes art. Yakima Arts Giving Circle is gifting the City of Yakima a sculpture worth $25,000.
A model of the sculpture is on display at City Hall.
"It's a concept of what the artist has for this specific site. The piece when it's completed will be between 6 and 8 feet tall," said Brooke Creswell, president, Yakima Arts Giving Circle. The sculpture will be made of granite.
The group has already installed a donated piece of art on 2nd Street. But, that sculpture is not in a designated historic district. They want this new piece of art to sit at Front and "A" street.
"Throughout the country many, many historic districts have modern or contemporary art. This piece was designed for that location. So the artist felt it was compatible," said Joan Davenport, planning division manager, City of Yakima.
Davenport said the Historic Preservation Committee voted against the sculpture by a 5-2 vote. They don't think the modern piece fits with the historic district.
Supporters of the sculpture think differently, citing the benefits of public art.
"It also speaks to visitors that Yakima cares about it's environment," said Creswell.
Four other advisory committees are endorsing the art piece. The City will now do things differently when it comes to art in historic districts.
"I think one of the lessons learned in the last month has been that the process does need to be better established," said Davenport.
City Council ultimately has the final vote on whether or not the large granite sculpture will be installed at the proposed location.