Bi-County Meeting Discusses New Crisis Response Center
Posted:
Updated: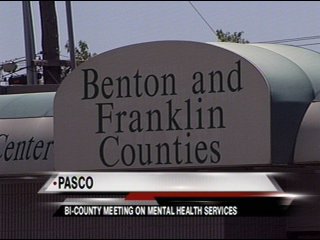 Tri-Cities, Wash. - Some say mental health services in the Tri-Cities are lacking, so a Bi-County meeting was held to address the issue.
Both Franklin and Benton County Commissioners met this morning to discuss a proposal for a new Consolidated Crisis Response Center or CCRC.
Mental health professionals feel the current crisis response center for the mentally ill does not meet the needs of the Tri-Cities, saying many end up in jail and do not get the treatment they need. An issue some commissioners are hoping will change with a new facility.
"The notion of taking people with a legitimate illness and put them in jail, more than ever, has really set in with me," said Franklin County Commissioner Brad Peck.
The Current Crisis Response Center for Benton and Franklin Counties is in a small building off West Clearwater Avenue in Kennewick. For years, there's been talk about getting a new building and better services, but little to no action has been implemented.
Which is why Benton County Commissioner Jim Beaver and Franklin County Commissioner Brad Peck stepped up to start a serious conversation.
Peck and Beaver proposed three options. The first is to not do anything and leave things as they are. The second is to raise sales taxes which is the last thing commissioners want to do in these hard economic times. And the last option is to cut back in other areas to fund the new center. Peck and Beaver proposed taking from Ben Franklin Transit, an idea that didn't sit well with Benton County Commissioner and Ben Franklin Transit Board Member Leo Bowman.
"I don't remember the first or last time that to rob Peter to pay Paul has ever really worked," said Bowman.
But Peck argues Ben Franklin Transit has a current annual budget of about $43 million dollars. While the annual budget for the Department of Human Services is at $22 million. Roughly $18 million of those dollars is used for mental health.
Another big piece to this puzzle is a Tri-Cities dentist, Carl Cadwell, has offered to pay for the construction of the Consolidated Crisis Response Center. All the counties would have to do is come up with the funding to operate it.
Advocates for the mentally ill saw today's meeting as a productive one.
"I am so happy to see government being transparent. We all need to get into the debate. Lots of heads are better than one," said Anna Bopp, President of the local chapter of the National Alliance on Mental Illness.
As soon as commissioners decide which funding option they want to take, the decision will be left up to the voters if a measure hits the ballot in the Fall of 2009.