Model T Drivers Nearing End of Classic Coast-to-Coast Trip
Posted:
Updated: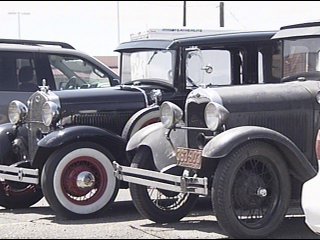 SUNNYSIDE--Model T cars rolled through Yakima Wednesday on their final stretch of a cross country road trip. If you missed seeing them on the road, you're in luck.
One hundred years ago, the first Ocean-to-Ocean run came through Sunnyside. Now these Model T's are back, only a couple hundred miles from the finish line in Seattle.
These travellers are re-enacting the first ever cross-country race, which came through central washington 100 summers ago, before some towns even had roads.
On June 14, 55 Model T drivers kicked the tires in New York City.
Now, 24 days and 3,500 miles later. Everyone took a lunch break in Sunnyside. Well, almost everyone.
"We've had seven engines blow and repaired them," Kevin Prus of Ohio said. "We had one Model T that was rear-ended in Rock Spring, Wyoming by a garbage truck. "
That car had to call it quits. Along with fighting their cars they've had to battle the weather: storms in the East, wind here in the Northwest and heat almost everywhere.
"We progressed into 100 degree weather across the Midwest," Prus said. "Now we're enjoying the hot, dry weather."
Top speed for these cars is about 45 miles per hour, but unlike in 1909, this isn't a race.
"We drive them 30-35 miles per hour," Steve Stapley said. "35 we run pretty nice at."
"[That way we have] less brakage," his wife Caroline said.
While it's a very American experience, the trip's got some international flavor.
"[We're traveling] 400 kilometers a day," Sven-Olav Hansson, who came over from Sweden for the race, said. "It's more than I had ever done in Sweden."
"Our car is painted red and white with a leaf on it for Canada, since we're representing Canada," Steve Stapley said. They're from Ontario.
The Stapleys took five years to get their car ready for the trip. Prus only took a few weeks.
But, as the finish line in Seattle nears, they agree this is the ride of a lifetime.
After all, they probably won't be around for the 200th anniversary run.
If you missed Wednesday's cars in Yakima, Kittitas Valley Cruisers Car Club will be welcoming the "Coast-to-Coast" Model T at Sixth and Pearl in front of Kelleher Motors Thursday around 11 a.m.
A family-friendly event will take place at the train depot. It's free to the public.