Is Crime Creeping Back into North Central Yakima?
Posted:
Updated: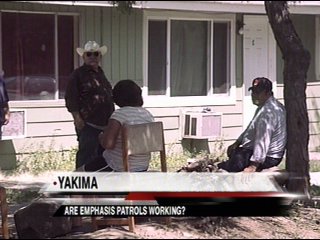 YAKIMA--Are gang members regaining confidence with police emphasis patrols slowing down?
Friday was a mostly quiet day in the area around Roosevelt Avenue.
But, has that been the case since Yakima Police started doing extra patrols last month?
The answer depends on who you ask.
"It is [normally] scary, but it's quiet now," Ninfa Vargas said. "The patrols really have done some good."
"The [police are] just like cruising," Rose Woodward said. She's not convinced the patrols are doing enough. "They're not really looking for somebody that's [firing] gunshots."
YPD beefed up their presence in North Central Yakima in June. Capt. Greg Copeland said the emphasis seemed to be working.
"We did see what we think is a decline in gang activity from about the first of July," Copeland said.
But then another shooting Thursday morning. Copeland said the department can resume the emphasis patrols at any time, but realistically, the city's budget crunch makes that tough.
"These days the dollars are really really tight," Copeland said. "We have to watch where we're spending our money, particularly on overtime."
People living in these neighborhoods say money shouldn't be an object.
"There needs to be more cops over here at night time," Woodward said.
"[Gang members] see that everything's mellowed out, and the police aren't patrolling as much," Vargas said. "It makes me nervous."
Police do plan to keep an extra eye on this neighborhood. But, they don't want to overlook other parts of Yakima, and they can't ignore a city budget that doesn't have extra dollars to spend.
Often YPD will apply for grants to pay for extra police work, but these kind of spikes in crime need addressed in days, not months or years like it can take to see money from a state or federal grant.