Kennewick Police Cracking Down on Lewd Conduct
Posted:
Updated: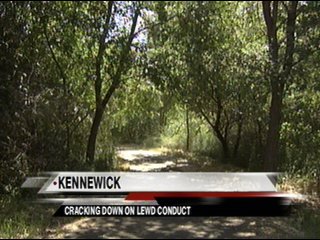 KENNEWICK, Wash-- It is not a welcomed sight at Columbia Park: lewd, indecent exposure. Now police are exposing the perps.
"This has been an issue-man on man sexual acts- for a long time," explains Kennewick Police Sergant Ken Lattin.
In total eleven men were arrested in the last two months, ages 30 to 72.
"It clearly affects men of all ages that are coming down here for random, anonymous stranger sex," adds Lattin.
Kennewick Police say the hot spots are from Edison street to the east end of Columbia Park. A lot of the time, these incidents happen off the main roads.
"This is going on back in the woods where it's secluded," says Lattin.
Police say there are signs to find this illegal behavior.
"Some of the more common ones is a male sitting alone in a car in a parking lot. Another male drives by and just taps the side of the car."
And there are more. The goal is to rid the park completely of any inappropriate behavior.
"Some of this stuff is just as it was when Lewis and Clark sailed up the Columbia River and we want people to come down and enjoy that and not have to be fearful of what their kids might see," says Lattin.
Here's a list of the men arrested:
William A. Kelley.
Reese W. Radliff.
Gerry E. Prochaska.
Kevin M. Hunt.
Douglas W. Bogart.
Robert Mendez.
Rolando Rint.
Ramiro Chavez-Luviano.
Robert T. Gudgel.
Randall C. Wolf.
Timothy J. Hendershot.