DETROIT GOLD CUP 2009: Steve David, Dave Villwock win first two heats of unlimited hydroplane racing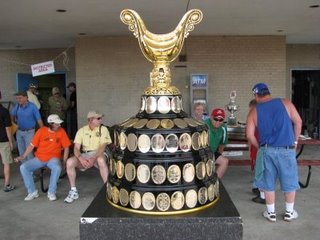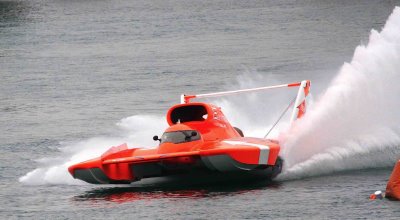 PHOTO - Jim Simpson
Detroit, MICH - After having assigned lanes in Madison, the unlimited hydroplanes were back to fighting for lanes at the Gold Cup.
HEAT 1A
Jeff Bernard managed to position himself in lane one in the U-5. Steve David in the U-6 came out of the first turn with a slight lead with J. Michael Kelly in the U-7 on the oustide and the U-5 on the inside. It was three boats nearly side-by-side, but David started to put the hammer down and lengthened the lead.
Bernard slid out and appeared to hit David's roostertail and had to back off.
Brian Perkins went through a roostertail as well trying to make a move on Kip Brown and did some minor damage to the U-48.
Heat 1A Results
U-1 Oh Boy! Oberto / Miss Madison - Steve David (400 points) - 147.993 avg speed
U-7 Graham Trucking - J. Michael Kelly (300 points)
U-5 Formulaboats.com - Jeff Bernard (225 points)
U-17 ActiVwater - Kip Brown (169 points)
U-48 Whirlpool presents Miss Albert Lee - Brian Perkins (127 points)
U-22 Matrix System Automotive - Mike Webster (trailer) (95 points)
"The Oberto is just perfect for this water," David told WORX. "I knew I had to have top end speed and hold the lane."
"Hopefully we continue this all weekend."
HEAT 1B
J.W. Myers, filling in for Jean Theoret in the U-37, had to start in the trailer position as he needed to re-qualify as a driver.
Dave Villwock led the racers across the line in lane three. Greg Hopp got a great start in the U-100 and grabbed second place, but went dead on the backstretch of lap one. Jimmy King passed up Hopp to move into second.
For Villwock, it was a clean run to the finish as he opened up a signficant lead. Hopp got the U-100 re-started, but it was too late to make a move on the leaders.
When the piston boat is running, it's running fast and strong, but it was not to be again. The U-3 went dead and King was out of the running.
J.W. Myers, starting in the trailer spot, ran down Ken Muscatel in the final lap and was looking at a second place finish, but was penalized for hitting a buoy. That gave Muscatel the 2nd. Hopp moved into third after the re-start.
Heat 1B Results
U-16 Miss Elam Plus - Dave Villwock
U-25 Jarvis Disaster Recovery - Ken Muscatel
U-100 Leland Racing - Greg Hopp
U-37 Glacial Energy presents Miss DYC - J.W. Myers
ONE LAP PENALTY - HIT A BUOY

DNF. U-3 Miss Chrysler Jeep - Jimmy King
"When the wind blows up the river, it gets bad," said Villwock on WORX. "The boat ride, we worked on all day yesterday in qualifying. If we can get one more in today and keep things rightside up, that would be good."