Kayleigh Perkins leads after first day of ULHRA racing in South Dakota
Posted:
Updated: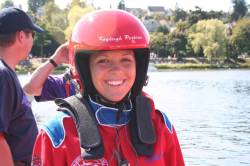 The second annual Pepsi Racing Power Cup Challenge is underway with a strong first day of competition before a very sizeable crowd. Officials of the organizing committee, River City Racin', said ticket sales were well ahead of last year and first day attendance was excellent.

In the featured Unlimited Lights class, Kayleigh Perkins took a heat victory and a second place in the "round robin" format. There are 3 preliminary heats and each team makes two starts prior to the Sunday afternoon Final.
In the first heat, Vince "X-Man" Xaudaro won the start and led for nearly two laps in the UL-9 US ARMY-NAPA Auto Parts before Ms. Perkins in the UL-72 Foster Care-Change a Lifetime took command and won by two roostertail lengths. For Xaudaro, filling in this weekend for "Smokin Joe" Souza who stayed behind in Tacoma, WA with a backlog of work at his automotive service center, it was the best performance yet by Xaudaro-Wilmot Racing since Vince combined efforts last season with Jim & Karon Wilmot. Xaudaro had intended not to race this season and concentrate on rebuilding his own Unlimited Light hull but because expanding business forced Souza to miss the South Dakota race Xaudaro stepped in. Souza will be back behind the wheel next weekend at Flathead Lake in Polson, MT.

Third place went to Chris Grant in the renamed for this weekend UL-3 Miss Pepsi in honor of the race's title sponsor. Michael Flaherty in the UL-11 K&N Filters-Power Punch Oil Supplements returned to the pits prior to the start.

In the second heat Ms. Perkins was penalized a lap for an infraction prior to the start. Paul Becker in his UL-14 Anchor Grill & Shipwreck Lounge-Miss Critical Logic won the start and the heat in his return to action after last August's devastating flip at Silverdale WA. Chris Grant finished third while Wil Muncey in the UL-00 Warning Power.com-Trafficade did not start due to a malfunctioning starter. Crew Chief Chris Dreewes said the problem would be corrected for the next heat tomorrow morning which will match Muncey with Becker, Flaherty and Xaudaro.

SOURCE: ULHRA