Wapato Family Loses Everything in Fire
Posted:
Updated: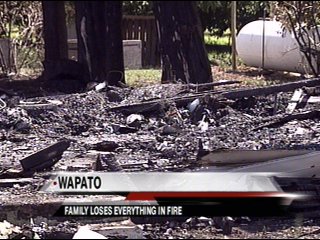 WAPATO--A Wapato family loses everything they own after their home burns to the ground early Sunday morning.
Firefighters aren't sure what caused the fire. John and Marcy White, along with their children Morissa and Sam, were watching tv when they heard a bang and saw smoke.
Firefighters got the call to the 200 block of Ragan Road around 12:30 a.m. Sunday.
By the time firefighters got there, the fire couldn't be stopped from destroying the whole house. Only the chimney was left standing.
The Whites had just moved to Wapato a few weeks ago. They say they hadn't even finished unpacking.
The house did have working smoke alarms. Still, the family says it all happened so fast.
"The power went out before I got out the door and I couldn't call for help," Marcy White said. "I didn't have a cell phone, and we were in bare feet. We ran to get to the car, and it was and it was an automatic garage door opener. It wouldn't open without power so we couldn't get the car."
Next to the house were fruit bins, a tractor, and other farm equipment which also burned.
Firefighters estimated damages at $325,000.
The Whites are new to the area. They hadn't even bought renter's insurance yet.
The Red Cross is helping the family, but they're also looking for more help. If you'd like to help the family, call the Red Cross at 509-457-1690.