Kennewick Residents Complaining About Dust from Construction Near Blue Bridge
Posted:
Updated: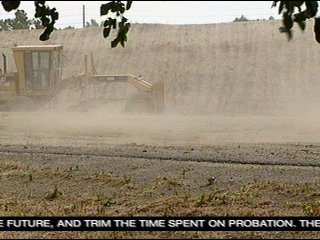 KENNEWICK, Wash.-- The blue bridge construction is causing quite a stir... of dust. Neighbors in the Clover Leaf trailer park say their homes are covered and the construction company isn't doing anything about it. Residents say very little is being done to stop dust from blowing, and it's covering their homes, both inside and out. Drivers are also complaining that the dust creates a visibility hazard when driving through the area.
They've complained to the Benton Clean Air Authority, which says it is illegal to not mitigate dust at construction sites. They've warned the KLB Construction company and the Department of Transportation, the two agencies in charge of the site, numerous times. After Sunday night's storm, they got a final warning.
Neighbors are warning they'll take out a lawsuit if it doesn't stop. Janice and Charles Moore say, "We're very angry. I am real ticked off about it because I came home last night, and my wife was in the house, she had to shut the air conditioning off. It was completely full. It was blowing right into the trailer house." Charles also has asthma and emphysema and says the dust has made it worse. He went to the doctor to order more inhalers because he's been going through them so quickly.
The Clean Air Authority says if KLB Construction and the DOT don't keep the dust under control, they could face a $10,000 fine. KLB Construction company told KNDU they have no comment at this time. Clean Air Authority staff say they hope the company begins watering or sealing the dust so this isn't a problem any longer.

Share your views on the news. Make a comment on this story below.