Tri-City Beats Everett 2-1 in Series Finale
Posted:
Updated: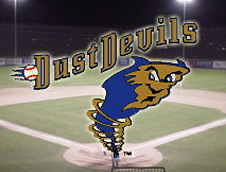 PASCO, Wash. - After a dismal night on Sunday, the Tri-City Dust Devils gave one of their best all-around performances of the year to beat the Everett AquaSox 2-1 at Gesa Stadium. Tri-City did not allow a run until the ninth inning, which occurred on an error. With the win, the Dust Devils move to 16-8 overall which puts them in second place overall in the Northwest league behind Salem-Keizer.
The Dust Devils got a strong performance out of starting pitcher Daniel Perkins who moves to 2-1 on the season. Perkins allowed only two hits and no runs in 5.2 innings and struck out four batters. Perkins was relieved by Eric Federico who struck out the only batter he faced. Brad McAtee pitched in relief for the first time this year and had his best outing of the season. McAtee, who was supposed to start yesterday, struck out three and only allowed two hits in two innings. Charles Ruiz picked up his fifth save of the year allowing one hit and one unearned run in the ninth.
The Dust Devils scored their first run in the third inning. Matt Sanders singled on a ground ball to third base to start the inning. Sanders advanced to second on single by Joey Wong and both runners advanced on a wild pitch. A sacrifice fly by Tim Wheeler scored Sanders and the Dust Devils went up 1-0.
Tri-City scored again in the sixth inning. Shane Lowe started things off with a precise bunt down the first base line. Kevin Clark reached first base on a fielder's choice. Leonardo Reyes then singled on a fly ball to right field to score Lowe to make the game 2-0.
The AquaSox nearly rallied to tie or take the lead in the ninth. Juan Fuentes scored on a fielding error to make the game 2-1. With a runner at third base, Ben Billingsley popped up to end the game.
Matt Sanders led the Dust Devils going 2-3 with a run scored on the night. Reyes went 1-3 with an RBI and Shane Lowe went 1-3 with two stolen bases.
The Dust Devils will travel to Spokane for a three-game series with the Indians before coming back home to play Eugene on Saturday. The Saturday night game will be the first of a five-game stand and will feature a post-game fireworks show.