Yakima Teens Employed Through Wage Scholarship Program
Posted:
Updated: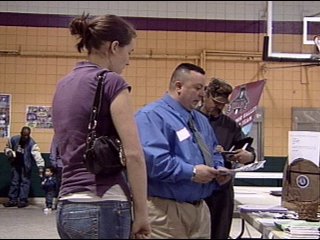 YAKIMA, Wash-- With high unemployment rates, Yakima teens are at the bottom of the list for summer work. But, some students are getting work experience through a wage scholarship program.
One West Valley High School student is going to work for the first time. Samantha Cornado's working for New Vision this summer. She's one of 68 teenagers employed through a scholarship program.
"What we're looking at is to provide her with real world experience and teenagers are one of the highest demographics for unemployment at this point," said Lisa Smith, business development director, New Vision.
Smith said teens have an especially hard time finding part time work. Many employers don't hire teens because of labor restrictions.
The job at New Vision is a good opportunity for Cornado to decide what she wants to do as an adult.
"When I get out of high school I want to look into business and receptionist work. So this would help me a lot," said Cornado.
The organization, Citizens for Safe Yakima Valley Communities, runs the summer job program. Businesses commit to employing a teen for 20 hours a week, for four weeks. Students are paid minimum wage. If a business can't employ young people, they can sponsor someone's wages, which costs $685.
"It's critical that we provide our young students with the job skills they're going to need for our future labor force," said Smith.
Cornado will be working on New Vision's Web site. She's making it more user friendly for Yakima County employers.
There are more students that need placement for summer work. If you'd like to sponsor summer wages or offer a job, contact Ester Huey at the Southeast Community Center, 575-2560.
Tell us your views on the news. Share your thoughts in the comment section below.