Graffiti Cameras Catch Two Taggers Red-Handed
Posted:
Updated: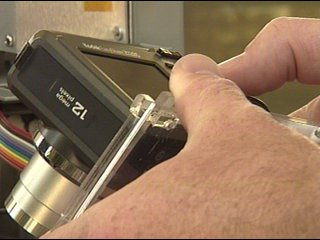 YAKIMA, Wash.- Graffiti flash cameras are making a huge difference in Yakima. This week, police officers caught two taggers on camera.
Officers are checking the flash camera, making sure the device is working before it's installed. Monday's installment was one of 18 cameras now patrolling the City of Yakima, deterring taggers and catching some.
"Stop. You're picture has just been taken by Yakima Police. This will be used to prosecute you." That's what people hear when the camera senses activity. So far, officers say it's done a good job keeping the city clean.
"It seems like everywhere we've put one up graffiti is completely gone," said Police Officer Jaime Gonzalez.
Business owners like Gary Fairbanks say graffiti was an issue for quite some time. The wall outside his business was a hot spot for taggers.
"I was painting over the wall weekly at least I'd come out here twice sometimes to paint over it," said Fairbanks.
Now with flash cameras set up in the area, ready to take a picture, Fairbanks is already noticing results.
"He showed me the computer and there was a guy just standing there with a spray can in his hands just in the process of doing it," said Fairbanks.
This is going on all over the city. Sometimes, the cameras scare people away. This week, they caught two people red-handed. Police officers are asking you to take a look at the video of the photos. If you recognize either one of them, their cars or have any leads on who they are, contact Yakima Police.