The Growing Role of the Catholic Church in the Yakima Valley
Posted:
Updated: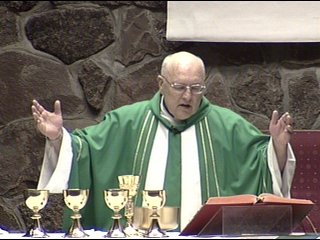 YAKIMA, Wash. - KNDO is preparing for a landmark celebration, 50 years in Yakima and in that time, the Catholic Church has seen its role and impact grow in the Yakima Valley.
In 1959 as KNDO was coming on the air, a church was starting on the outskirts of town.
Gary Desharnais was there when Holy Family Parish was just starting off of Tieton Drive.
"When they first started building it was the absolute edge of Yakima," he said. "Some people wondered why they wanted to build this far out."
Today the church is at the center of a growing community. Now, Father Desharnais is no longer just a member but associate pastor. He is helping the church's first Hispanic pastor get settled.
Two weeks in, Father Cesar Vega says he does not plan to change much of how the church is run.
"You want to bring your own vision, your own experience," said Vega. "But more than anything else you take on whatever they have been working on."
Holy Family is working hard to help its community and just across the street, the Diocese of Yakima is taking on the same cause.
Bishop Carlos Savilla says over the past 50 years the Catholic Church has focused on reaching out to families in the Yakima Valley and providing people in need with housing.
"Catholic charities doesn't just serve Catholics, it serves anyone. We don't serve people because they are Catholic, we serve people because we're Catholic," he said.
But in that time they have also seen controversy, specifically cases of child abuse.
"We've tried to deal with that as well as possible bringing healing to the victims and also establishing structures," said Savilla.
As the church moves forward it is working to reach today's youth. It has launched new programs to attract young people, which is something members also strive for themselves.
"I think it's important to experience the church every week and to set an example for children," said Laury Farino, a member of Holy Family Parish. "My daughter is fourteen and god is important to celebrate every week."
Each new week Father Vega spends with Holy Family, he will work to unite those who speak English with those who speak Spanish into one community of faith.