HAPO Credit Union Donates Money to Keep Juvenile Drug Court Open Longer
Posted:
Updated: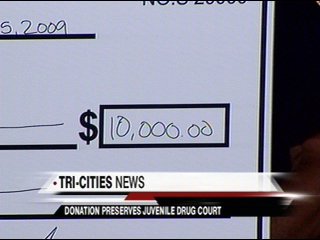 KENNEWICK, Wash.-- A huge donation is keeping juvenile drug court in session for the rest of 2009. HAPO Credit Union donated $10,000.
The juvenile drug was going to have to close because the state pulled its funding, and the adult one's days were numbered too. When prosecutor Andy Miller first heard the program may come to an end, he wasn't happy. He explains, "I felt bad for the kids that were going to lose the treatment, but I also felt bad for the community because it means we're going to have a bunch of meth addicts committing crime. So, we were depressed when it looked like we were going to lose it."
Jacque VanWormer is a researcher who helped launch the program in 2001. She understands why the funding is being cut, but hopes people look deeper. "The state's in a huge budget crisis and that's understandable, but I think if more people can understand the true cost savings." She says it costs less to put people through drug court, than to risk having them end up back in prison.
Dave Schulz, President and CEO of HAPO Credit Union worked with the drug courts for the past few years, and wanted to help. Schulz explains, "When we saw the results of the program and feel it's not recognized enough, and then we also come to realize they needed some assistance during a though economic time, it was a no-brainer."
So, HAPO donated $10,000, which is enough to keep the juvenile court open for the rest of the year. After that, Miller hopes Benton and Franklin counties will find a way fund it, or maybe Washington will renew its funding.