Yakima County Jail Readying for this Year's Budget
Posted:
Updated: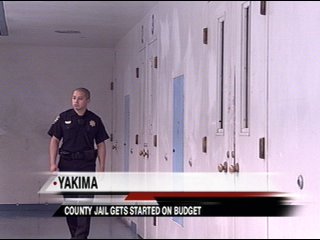 YAKIMA--Police are making more arrests and putting more people in the Yakima County Jail. But, with the county's revenue down, is that a good thing for the upcoming budgets?
The Yakima County Jail is, plain and simple, a business.
Like other businesses in these tough times, they're trying not to raise rates for customers, in this case, local cities.
"A recession is a recession for everybody," Jail Director Steve Robertson said. "So here at the jail we look at everything we do and how we do it."
Robertson said the jail's budget is still in the early stages. Right now, about 1,000 inmates live here--200 below capacity.
By taking inmates from other counties, our jail makes most of the money it needs.
"Basically we have a $30 million budget," Robertson said. "20 million of it comes from bed revenue."
The rest of the money has to come from Yakima County.
KNDO talked to County Commissioner Kevin Bouchey over the phone. He told KNDO revenues are down across the board.
So they're keeping the jail's budget as minimal as possible.
One way to keep costs down may be to house fewer inmates.
"I think the local communities are going to look hard at how they're going to reduce their jail costs," Robertson said. home detention is cheaper."
According to Robertson, inmates on electronic home monitoring cost about $25 less per day.
Right now, about 75 jail inmates are on house arrest.
That number could increase, saving taxpayers money, but putting more inmates into our neighborhoods.
Robertson is filling open positions and doesn't see layoffs in the future, but some upgrades could be put on hold.
The jail's been wanting to completely renovate their security system for some time. But, with budget concerns all across the county, there's no time frame for when that might happen.