Water Follies Artist
Posted:
Updated: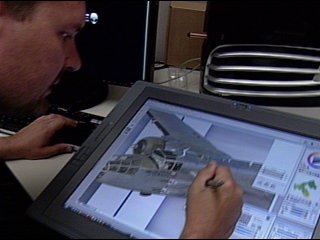 Richland- It's hard to miss the many posters and brochures for this year's boat races. The person behind the art we've seen on posters and brochures says he enjoys every minute of his job. In fact, there isn't a second that goes by he isn't thinking art.
36-year-old Jason Fitzgerald loves this time of year. His passion for high speed hydro boats has inspired him to digitally create the posters and brochures you see for boat races. Although it looks like a painting it's really a digital masterpiece.
Through a program called Corel, Fitzgerald adjusts the tips of his pen to act as a paint brush. Every year the Tri-Cities Water Follies teams up with his company, Lockheed Martin of Richland to create these magnificent works of art.
"We like to try to mix everything up each year. Last year's art was very clean, slick, shinny and bright," he said.
Over the course of a week he was able to bring to light this years theme, B-25 Bombers.
"When Jason finally gave us a view of the art we were so excited. It was exactly what we were looking for," said Kathy Powell, Event Director of Tri-Cities Water Follies.
With over 100 international design awards under his belt, Fitzgerald is still working to master his craft. As for a preview of next year's design he says you'll just have to wait and see.