How Golfing Affects Business Relationships
Posted:
Updated: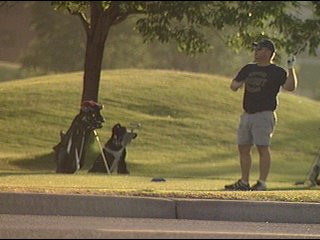 KENNEWICK, Wash. - Many business deals are done on the golf course. But if you don't know how to golf does that mean you might not get the promotion you're hoping for?
That's why the Tri-Cities Regional Chamber of Commerce held a seminar to learn the right approach to build business relationships on the course.
They addressed questions such as are you missing out on those business opportunities because you aren't comfortable with your golf game? Do you not know the terminology and don't want to look bad?
Not everyone is familiar with golf, which is why the chamber has brought in professionals who know how to do it right.
"It can be used as a successful business tool because of the way golf is played with tradition and honor. People can use that to select better business clients and ultimately create better business deals for themselves and their organizations," said Sean Riley, Tournament Coordinator with the American Junior Golf Association.
What business professionals look for when playing golf isn't exactly the skill, but how well you handle the struggles and frustrations of the game. Swearing and throwing a tantrum isn't good. If you play an honest game, that means you can be trusted at work.
**We want to hear your views on the news. Share your thoughts with us in the comment section below.**