16th District Legislative Candidates Speak At Public Forum
Posted:
Updated: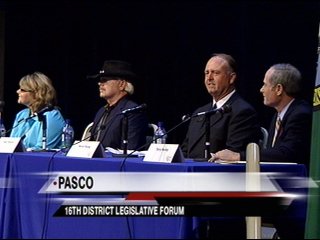 PASCO, Wash.-- Candidates for the 16th District Legislative seat got to sound off at a public forum Tuesday night. It was held at Columbia Basin College in Pasco.
The Position 2 seat needs to be filled after Representative Bill Grant passed away earlier this year. He held the seat for the past 22 years. His daughter, Democrat Laura Grant, took the seat for the rest of the session.
Laura Grant's now one of the four in the running. The others are Republican Terry Nealey, Reagan Independent David Roberts, and Repub. Kevin Young.
Taxes and solving the budget deficit were hot issues. Young says, "I've taken a vow, and it's in writing, that I will never vote for a new tax, never vote to raise a tax, and if any program comes before me that's worthy of my vote, it has to find its revenue from existing sources."
Roberts explains,"We don't need taxes. If you want to get the economy going, we need to cut taxes, but first, we need to pay for our bills. We need to pay for ourselves and we have $8 to 10-billion in the biennium that we have to pay."
"I'm convinced that we can proceed through this next Legislative session without raising taxes. We've got to help reform government to hold it in balance," explains Nealey.
Grant reflects on her two months in the Legislature and says, "I was able to lend a voice that that's [taxes] not what people at home want right now. We just can't afford it. No , no new taxes, no news fees, no incremental little fee here and there. "

This forum was put on by the Campaign for Liberty. These four candidates will be narrowed down to two in the primary elections coming up on August 18th.