Local Church of Jesus Christ of Latter Day Saints Celebrates 50 Years in Yakima
Posted:
Updated: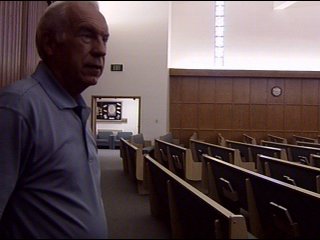 YAKIMA, Wash-- The 1950s were a time of great growth for the Yakima Valley, KNDO aired it's first broadcast. The Church of Jesus Christ of Latter Day Saints built their first stake in Yakima.
Like much of Yakima the property between Tieton and Nob Hill used to be orchards, that is until 50 years ago when local Mormon men constructed their church.
"We spent thousands of hours building this building," said Bob McLaughlin, former stake president.
Jobs in the sugar beat industry and at Hanford attracted Mormons to the Yakima Valley in the early 50's. Current stake president, Douglas Button, said he recalled watering the orchard before it became the church.
Membership has tripled in the 50 year span since.
"When we were formed we probably had around 2,000 members and now...there's about 7,500," said Button.
The halls of the Yakima stake are lined with classrooms. A large chapel often holds people from all over the state for conferences. There's even a full size basketball court where members host a basketball league.
"In fact in the last few years we've invited other churches to come and they've enjoyed playing with us. So they say the sportsmanship is better than the city leagues, but I question that," said McLaughlin.
Every year LDS members celebrate the pioneer movement and the beginning of their church in Salt Lake. This year the Yakima stake is adding to the celebration, they're hitting the 50 year mark in the Yakima Valley.
"On Saturday we're inviting members of the stake, local and those who have lived here previously to come and celebrate," said Button.
They've compiled years of photos and newspaper clippings to share with guests. Button thinks over 1,000 people will make it to this Saturday's festivities.