Fixing the Hydros Race Course
Posted:
Updated: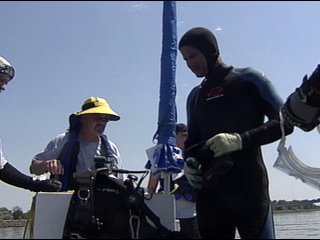 KENNEWICK, Wash-- Before more than two dozen hydros hit the Columbia River at speeds nearing 200 miles per hour, they've got to know where to go.

Our journey starts two days earlier; in a much slower boat.
"Every morning we have to anchor the inflatable buoys to the styrofoam floats that you see out there," says Vern Brucker with the Water Follies.
Water Follies staff say the course is set up a week before the races. But oftentimes, boaters knock down, tear, pull, and tug the marked buoys prior to the waving of the checkered flag.
"Either they'll hit them, sometimes you see boats they think they can anchor to them and they'll tie off to them and it won't be enough to hold them," explains Brucker. "It pulls loose."
Which means more work for dive crews to re-attach the styrofoam buoys to metal anchors.
But first, crews have to find the anchors.
"There's the element of danger here," explains diver Lee Piekarski. "We just do a lot of training to prepare for this and we're pretty careful when we are doing it."
While the adrenaline rush isn't quite the same as the big race, it's fair to say there would be no race without these guys.
"It's tiresome. But it's enjoyable," adds Brucker. "You get out here and feel like you're doing something good for the community and spectators enjoy the racing."