Help Your Pets Beat The Heat
Posted:
Updated: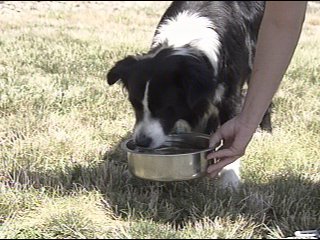 YAKIMA--Triple-digit temperatures throughout the valley. How's the heat affecting our four-legged friends?
The thermometer climbed as high as 102 degrees Wednesday, and Humane Society of Central Washington Executive Director Alan Landvoy said that's bad news for pets.
"Just seems to be that 90 degree mark is beginning of potential for danger," Landvoy said.
We're passing that mark almost every day here in Yakima. Pet owners like Keri Keeling need to take care.
"I have a 5-gallon bucket that I fill full of cold water," Keeling said. "I keep it in a shaded spot so its not out in the sun baking, getting warm."
She tries to go home and replace the water throughout the day. Her dogs get more than drinking water: she leaves her sprinklers on.
"When they get overheated they need something to cool them down," Keeling said. "That water really helps them out a lot, keeping their coat wet and them staying in the shade."
If you leave your dog outside, don't keep them on a chain or rope. Make sure there's shade.
When you get home, cool them down and watch out for warning signs.
"It's almost like stress breathing, they've got their tongue out a lot," Landvoy said. "They'll start drooling a little bit."
Get your dog out of the heat quickly if you see the warning signs. Use cold water, ice packs, and fans. Limit their time outside as much as you can.
"A couple of minutes is not a problem," Landvoy said. "But boy, when it's 90 degrees and they're out walking or running around, they can get stressed real easy."
If you do take your pets out, try to make sure it's before 9:00 a.m. or after 6:00 p.m. when it's not as hot.
One other thing to think about? Hot cement or asphalt can burn your pet's paws, so try to keep them in the grass if you do take them outside.