Airshow Media Day
Posted:
Updated: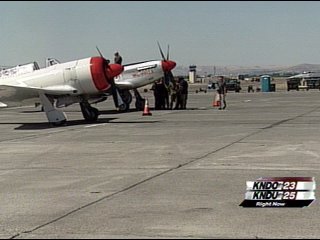 Pasco. Wash.--We've talked a lot about boat racing, but another really big attraction this weekend is in the sky.
The boat races are the main event of the weekend, but you can't miss the many planes that have been flying over head.
It's called the Hapo Community Credit Union Over-The-River Airshow.
Practice runs were underway today at Bergstrom Aircraft in Pasco. The planes will fly in between heats of the boat races.
One plane in particular was the North American P-51 Mustang flown by Veteran Pilot Greg Anders, who is a member of the Us Air Force Heritage Flight Program. Even when Anders is not flying he can't help but notice the boat races.
"Well we're just really thrilled to be here in Pasco in the Tri-Cties area doing the Airshow on top of the boat races, he said. "The boat races are really exciting to watch as well and we'll try to get down there as quick as we can when we're not flying."
Other planes taking off today were the F-16 Fighting Falcon, The Russian Warbird Yak-11, the North American B-25, Pacific Prowler and the B-25 Mitchell Bomber.
They are just some of the many vintage planes you can expect to see this weekend.