Cranes Playing an Important Role in Hydro Racing
Posted:
Updated: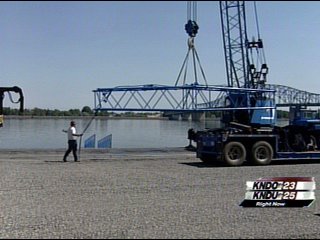 KENNEWICK, Wash. - Hydroplane boats can go 200 miles an hour but they won't get far unless someone puts them in the water.
There are six cranes down at lampson pits, each can lift up to 70 tons. Even though the hydroplane boats are an easy lift, much of the work comes when they have to put the cranes together. It takes nearly 3 days to get the cranes to the pits and put together before the races begin. And about that much time to take them appart and transport them back when it's all over.
Five of the giant cranes are donated from a Pasco based company, Lampson Cranes and one from Ray Poland and Sons in Kennewick.
The cranes play an important role of getting the boats on the water.
"Last week we actually had a crane that set a boat down improperly and it did boat damage so having a very good crane operator is key because we don't get to go racing if they're not put in the water, " said Kayleigh Perkins, Driver of the UL-72 Unlimited.
But that's not all Lampson Cranes does for Water Follies.
"Lampsons helped out in numerous ways from the docks building them when we upgraded the new ramps, it makes it safer for the teams and we can tie up the boats. The official barge in front of the the golf course, the three levels helps with coast guard rescue and then the officials," said Kevin Smith with Tri-Cities Water Follies.
And you can bet they'll be back next year and many years to come.
"I've been doing this for 20 years and the same cranes are here and the same people and it's a commitment from the community to continue this race," said Smith.
Crane operators say the hydroplane boats are some of their favorite lifts of the year.