Yakima Volunteers are Keeping Teens out of Trouble
Posted:
Updated: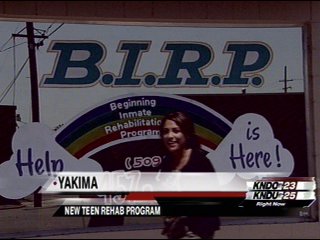 YAKIMA, Wash.- A group of volunteers are cleaning up the city one street at a time, and now, just started their own non-profit organization. It is called the Beginning Inmate Rehabilitation Program.
Volunteers are busy taking calls and organizing the office; it's the first step in getting this community program running.
"We're trying to work with kids before they start getting into the system and if they do get into the system, we went to keep them from having to go to the Yakima County Jail or penitentiary," said Christine Smith, the organizer.
BIRP will offer services like drug and alcohol counseling, and year round activities to keep kids off the streets and out of trouble. Their main goal is prevention.
"Helping kids better themselves before they reach that point because you can't help somebody that don't want to help themselves and that's what this program is, a helping hand," said Susan Alfaro, a volunteer.
While the office may be new, the volunteers are veterans. For months, they have been painting over graffiti all on their own. Now, the city of Yakima is helping this non-profit organization by donating supplies.
The 22,000 square foot office is all paid by donations. Organizer Christine Smith says they received donations throughout the community and are in the process of getting some grants.
"When you have a hope or dream or whatever you follow it no matter what," said Smith.
Smith says this office and the impact it will have on Yakima teens is all a part of her dream.