Cash For Clunkers Rules
Posted:
Updated: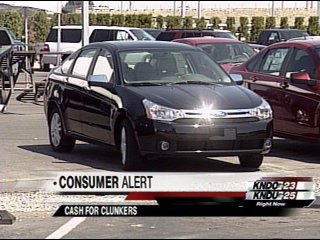 PASCO, Wash.--There has been much talk about the new government program "Cash for Clunkers." The question is, when does it go into effect? and what exactly do you have to do to qualify?
Looking for a brand new can be difficult, but thanks to a new government program, finding what you're looking for just got easier.
Today U.S. Transportation Secretary Ray Lahood, officially kicked off the Car Allowance Rebate System (CARS), better known as "Cash for Clunkers in an effort to boost the economy by getting consumers to purchase new fuel efficient cars.
"We encourage people to get into their favorite dealerships and look at their favorite car and take advantage of the 35 to 45-hundred," he said.
That money, however, will not be given to you unless you qualify because over the weekend a list of rules were implemented for the program.
For example, your car must be less than 25 years, get 18-miles per gallon or less,must be registered and insured. And of course, it must be drivable.
In addition, the maximum amount you will receive for any trade is 45-hundred dollars. That price is only good for new vehicles with a retail value of 45-thousand dollars or less.
Legacy Ford in Pasco is excited about the program, but they're having a hard time keeping up with the demand. Despite trying to meet consumer consumer needs, they are happy about the new business the program brings.