Yakima City Council Members Regain Community's Trust
Posted:
Updated: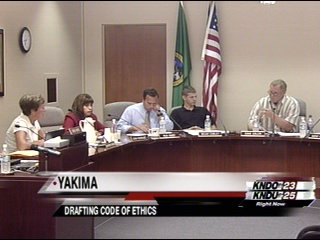 YAKIMA, Wash.- Yakima City Council members work to draft a code of ethics. They're hoping to regain the community's trust and set standards for elected officials.
Integrity, trust and community involvement were all things that came up while discussing the code of ethics Tuesday. The proposal is now moving forward...but not everyone has been in full support.
"I was surprised with the resistance in this from some council members," said city council member Sonia Rodriguez.
Though no one says they are opposing a code of ethics, some council members question its necessity. Yakima residents say there's no question about it.
"Some previous incidents have not encouraged people to trust city council members," said Claire Powell, a concerned Yakima resident.
Earlier this year, council members were scrutinized for how much was being discussed out of their closed meetings.
Because of this, Sonia Rodriguez says getting a code of ethics drafted and finalized is a top priority.
"So the public can see what we're doing, how we treat each other, our commitment to this and what standards were holding ourselves to," said Rodriguez.
The council is using drafts from the city of Richland and Federal Way as guidelines, to see what will or won't work for Yakima.
"I don't know how we can draft a code of ethics without knowing the definition of ethics," said city councilman Bill Lover.
The rules and procedures committee will immediately start working out the details and drafting the code.