Local Influx of Gang Activity Not Expected to Be Permanent
Posted:
Updated: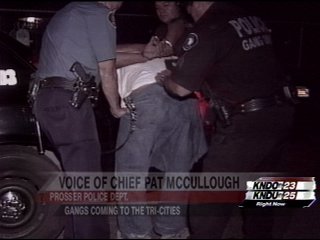 KENNEWICK, Wash.-- Police departments do not believe there is sudden influx of gang members moving into our area, they say gang violence occurs in peaks and valleys, and right now we are in one of those peaks.

"These things go in cycles and when theres one gang in the area, they don't seem to battle against each other, you don't seem to hear much about them," said Kennewick Police Sgt. Ken Lattin.

But now gang violence has become a major issue for our area. Rival gangs coming into the tri-cities from all over, not just the Yakima Valley.

"Rival gangs come from other areas, not just from up the valley but in other areas of this part of the state and states across the border into Oregon and they're rivals and when the rivals arrive they they start to violence, they war," he also said.
But there is some confusion if new gang members are permanently moving into our area. There's really just no way to tell.
"There's no way to say that unless they're filling out change of address cards or something to that effect," said Prosser Police Chief Pat McCullough.

Because of the relative closeness of gang hotspots in eastern Washington, officials say they have to work very closely with other agencies, and they must because as are recent cases here, gangs can come in, commit crimes, and then go back home.

"All these areas are accessed off a main highway or freeway which is 1-82, they can be either place within an hour," he said.