Tri-City Opens Big Series with 3-1 Win Over S-K
Posted:
Updated: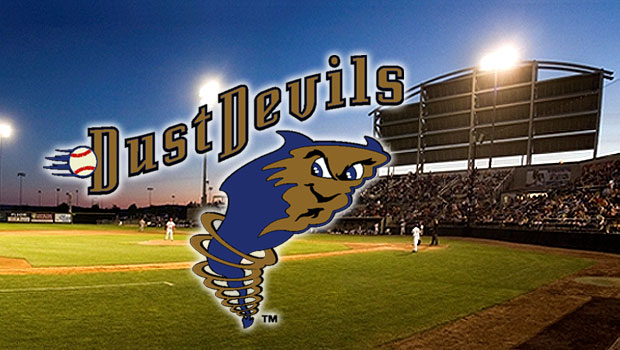 PASCO, Wash. - The Tri-City Dust Devils and Salem-Keizer Volcanoes are the top two teams in their respective divisions and both teams look to slug it out for five games at Gesa Stadium this week. The Dust Devils took the first game with a 3-1 victory over the Volcanoes. Both starting pitchers had strong outings, considering they were facing two of the top offensive teams in the Northwest League.
The Dust Devils had great pitching performances throughout the game allowing only four hits and one run. Starter Josh Hungerman went 4.2 innings and allowed one run on two hits, striking out three. Rhett Ballard also struck out three in 1.1 innings. Rex Brothers picked up the win for Tri-City as he struck out four of seven batters in two innings. Charles Ruiz picked up his ninth save as he struck out two in the ninth inning.
The Volcanoes got on the board first as Chris Dominguez hit a bomb out to left field to start the second inning. The home run was his seventh of the year which puts him at the top of the league with Dust Devil Bo Bowman and former Dust Devil Mike Zuanich.
The Dust Devils could have responded in the second inning as Bo Bowman was walked as the lead off batter. Starting Volcanoes pitcher Jeremy Toole walked the next batter Kent Matthes to advance Bowman. Kevin Clark ripped a single through the infield to load the bases, but Toole shut down the Dust Devils as both Joseph Sanders and Jose Gonzales struck out. Joey Wong grounded out to finish the inning.
Things were moving pretty slowly for both teams until the bottom of the sixth inning when Joseph Sanders stepped up to the plate with the bases loaded for the second time in the game. Sanders struck out the first time, but redeemed himself with a one-out RBI single to tie the game 1-1. Gonzalez also had a chance to redeem himself, but struck out for the second time with the bases loaded. Joey Wong also missed his second chance at an RBI as he popped out, leaving three runners on base for the second time in the game.
The seventh inning stretch seemed to do the Dust Devils some good as Wheeler started the inning with an infield single. He was driven home by Ben Paulsen to make the game 2-1. Paulsen then scored on a single by Matthes to give the Dust Devils a two run lead 3-1.
Charles Ruiz came into the game and picked up his ninth save of the year as he struck out two and one batter popped out.
Tomorrow night is '80s Night at Gesa Stadium and fans are encouraged to dress up and get down with the Dust Devils staff.