Firefighters Fight the Heat
Posted:
Updated: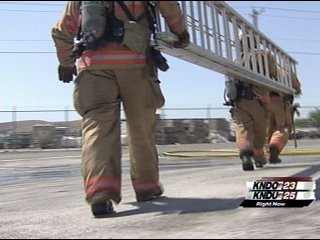 KENNEWICK, Wash-- Even the smallest fire can spark a huge risk for firefighters, especially with temperatures pushing triple-digits.
"It takes a greater strain on us personally, and the physical demands," explains Tim Reich, Captain with the Kennewick Fire Department. "We have to stay hydrated than we do other parts of the year, keeping people cooled off."
Enter basic training to help firefighters beat the heat. And we're not just talking about any regular training. To better prepare for the summer heat, firefighters train outside with all this gear--things like jackets, boots and a helmet--which together can add up to more than 20 pounds.
It is grueling, uncomfortable, and not to mention flat out hard. And yet it all serves a purpose--staying in shape. To better understand all of this, the fire department gives us an inside look into their world.
Crews fit us with gear. The drill lasts close to a half-hour; the workout simply unequivocal, and heightened by the summer heat.
"In the summer time, we all remind each other to drink water throughout the day," adds Reich. "Drink before we're thirsty. Remind each other on our days off to stay hydrated because that cumulative affect can build up."
Water is their best defense, but it's not the only one. There's also time; crews rotate in shifts, making sure they get a rest.
"We have to come out and take a break after we go through two of our air bottles. And when you change from one to the second, we're required to drink six ounces of water."