Bureau of Reclamation Canal Leak Means More Bad News for KID Customers
Posted:
Updated: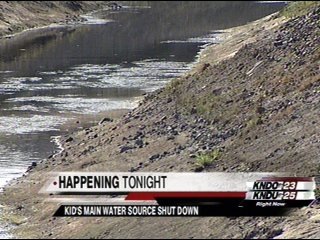 KENNEWICK, Wash.-- Farmers and land owners are scrambling to figure out what they're going to do after more bad news for Kennewick Irrigation District customers. The Bureau of Reclamation's canal that gives all of KID water has to be shut down, after a leak is detected. This comes two days after a leak in a KID canal.
District staff say their canal was almost ready to get water back when they got news of the Bureau having to shut off the main source to KID, the Chandler Diversion Canal. That means by Friday, nearly all 20,000 customers are going to be without water. Beth Smith, KID's public information officer, says, "It's going to be a minimum of 10 to 14 days to bring the water back after the Bureau fixes their system and starts giving us water in our main canal."
In the mean time, some KID customers can use city water. City staff ask that you use it on even numbered days if your street address ends with an even number. Odd days if it's odd.
Smith says this second canal leak makes the situation go from bad to worse. She explains, "It was just very disappointing because we know how important the water is, especially to our ag [agricultural] customers." They have 400 agricultural customers, which could be greatly affected by this outage.
Smith says the district is not allowed to reduce assessments, even if customers are without water, because of state law.
***We want to know what you think. Share your views on the news. Post your comments in the section below.***