Robert Daniel Webb Found Guilty By Ellensburg Jury
Posted:
Updated: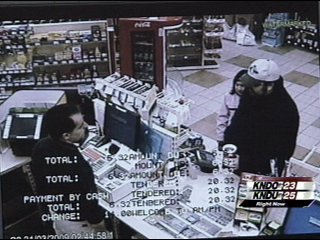 ELLENSBURG, Wash-- A jury found Robert Daniel Webb guilty of aggravated first degree robbery and reckless endangerment. He robbed a convenience store in Thorp and it was all captured on tape.
The surveillance footage made national news, showing Webb robbing the clerk at the Thorp AM/PM. Eric Owens is the man behind the counter, he's relieved with the outcome of Webb's trial.
"It's affected my life in a lot of ways, one is I've lost a lot of sleep, so has my wife. We've even considered moving as a result of the stress and the worry over threats to my life," said Owens, clerk, Thorp AM/PM.
The jury found Webb guilty on both counts against him first degree robbery and reckless endangerment. They added an aggravated charge to the robbery, because his then 9-year-old daughter was present.
The defense argued, the gun wasn't real. Webb had used a toy gun, spray painted black. That's no excuse for Owens.
"It doesn't matter whether it was a fake gun or real gun. It doesn't matter, the crime was still committed and the threat was very real," said Owens.
Webb's daughter was found and he turned himself into the Yakima Police Department. Webb's attorney asked for a pre sentencing investigation. It'll look into Webb's history of alcohol abuse and could take 30 to 40 days.
Owen's said he'll be happy if Webb gets the help he needs, whether that be in jail or a rehab program.