Farmers Hoping Water Comes Back Soon
Posted:
Updated: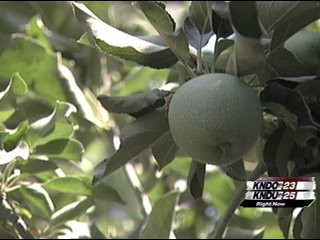 KENNEWICK, Wash-- The Bureau of Reclamation expects to now have at least some service to Kennewick Irrigation District customers a lot sooner than originally planned.
Crews started repairing a leak at the Chandler Diversion Canal near Benton City Thursday morning, and as of late Thursday afternoon it, is fixed.
They believe they will be able to give K.I.D. some water Thursday night, but can't say how much. K.I.D. leaders expect to have a better idea about a re-start timeline Friday.
John Pringle of Pringle orchards in Kennewick spoke to us Tuesday and said he was optomistic about the canal break, saying 2 to 3 days with out water wouldn't really harm the farm. In the meantime, to play it safe, he's trying to figure out what to do to save his crops.
Right now, you might not tell the trees are in need of water. In a few days, though, that could be a different story because of this record heat.
Pringle says he's questioned whether or not to rent water trucks to replenish the soil. It's money out of pocket, and says it's just not cost effective.
"That's not practical to irrigate hundreds of acres of orchards by tank from a truck. We're talking millions of gallons," he says.
Pringle also says he can't tap into the city's water because he has too much land in need of water. And it's not just his apple harvest suffering, it's also next year's cherry crop.
"July is when we're forming the buds for the new crops. So this is a process to get bud differentation. They're trying to decide if they'll be a leaf bud or a fruit bud, or if they're going to be 1 or 2 cherries. Anything you do to stress them, it changes that, so it definitely has an affect on next years' crop," he adds.

It's now a race against time, and there's no easy answer. We asked him how much money could be lost, and depending on how long his crops go without water, he says it could put him thousands of dollars down per acre.