Lightening Ignites Logs at former Boise Cascade Site
Posted:
Updated: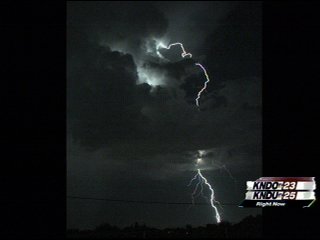 YAKIMA, Wash.- Dozens of residents rushed out of their apartments to watch as logs burst into flames. The decks of logs at the former Boise Cascade site were burning for over an hour. Firefighters say lightning is the cause. Witnesses took some pictures.
"Lightning then I heard a big boom, then I saw big flames and a lot of people coming to look at it," said Sally Ramirez, who lives feet away from the site.
The flames looked like there were over 20 feet high from highway I-82, burning two decks of logs. The fire was contained within a few hours but neighbors say it was alarming.
"Super dangerous and you know yesterday was a big example of how dangerous it could be and our children come first so definitely should do something about it," said Esmeralda Gonzalez, a concerned neighbor.
There is currently not a sprinkler system in place there, so firefighters are asking employees to keep the logs 120 feet apart from each other. A water tank burst into flames three weeks ago, making yesterday's fire the second one this month. Firefighters say, this time, it was unpreventable.
"Things happen accidentally or in this case, nature decided this is the spot, that's why you take these precautions," said Ron Melcher from the Yakima Fire Department.
Employees have contracted a water truck to keep the logs from drying up. As of now, the heat is not a serious risk.
"They're not going to spontaneously combust there's going to be something going to have to happen," said Melcher.
Firefighters will continue to work with property owners to ensure another fire like this one doesn't happen again.