Fire Destroys Cle Elum's Senior Center
Posted:
Updated: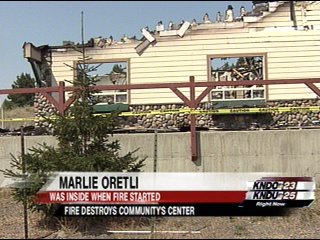 CLE ELUM--People in Cle Elum began picking up the pieces Sunday after a fire destroyed the town's senior center Saturday.
Marlie Oertli had just sat down for the annual steak dinner fundraiser at the Cle Elum Centennial Center.
"We heard an explosion, and so some gentlemen from our table went back to the rear to open up the door and we saw the flames," Oertli said.
Oertli and about 100 others got out fast, but not before one suffered burns that landed him at Harrborview Medical Center.
The fire started here at this barbeque pit. Firefighters aren't sure what caused it, but thanks to an exploding propane tank, it spread quickly.
"It was an extra hard fire, just because it got up into the attic space and with the heat that we already had in the area we couldn't get into the attic to attack it, especially with a metal roof."
Campbell had to pull his crew out when part of the roof collapsed. Then a few minutes later, the whole thing. All while hundreds watched.
"Horrified," Oertli said. "It was traumatic. Just awful. I still can't get the thoughts out of everything that I saw out of my head."
Neighbors called this more than just a senior center: a place for weddings, reunions and anniversary parties. A place you could go when you didn't have anywhere else.
"It was a shelter for us in the winter when the pass was closed and there was no place for people to go," Mayor Charlie Golando said.
Hours after the center was lost, people were already looking towards a new beginning.
"I think it's going to be very rewarding at the end," Oertli said. "What happens out of all of this what's going to come out of it."
"They banded together before to build this and I'm quite sure they'll band together again to rebuild it," Golando said.
Members of the center's board of directors say the building was insured, and they will rebuild.
Firefighters told KNDO the senior center didn't have a sprinkler system. Having one could have saved the building.
Miraculously, only one person was seriously hurt, but family members say he'll be back home this week.