Days After Canal Fixed, Some Left Without Water
Posted:
Updated: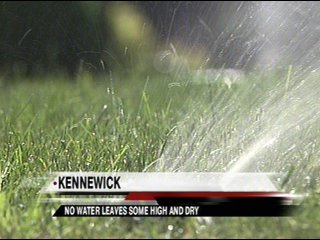 KENNEWICK, Wash-- A welcome sight for Charity Quast's grass: the sound of a working sprinkler. It's not something she's grown used to of late.
"They come on, put enough out, but they don't oscelate back and fourth. Sometimes they barely come out, or not work at all," she says.
Now that last week's K.I.D. canal break has been fixed, some neigbors are asking the bottom line question--where's my water?
Neighbors get their water from a nearby pond. The problem is it's running low, and Quast is running out of ideas to preserve the water.
"If it rains, we turn our sprinkler system off. We only water every other day. And days when we mow, we don't water at all."
K.I.D. says they're providing the amount of water they're required to.
"Each property has a water allotment of 42 inches per year, and that's spread out over the irrigation season," explains Scott Revell, interim manager with the Kennewick Irrigation District.
So the answer-- work with what water you have and don't use too much, too fast.
"The system was never intended to irrigate every acre at the same time. It's just not built for it," Revell adds.
That's why they're hoping neighbors stick to the even-odd schedule; even numbered homes water on even days, and vice versa. And even with this hot weater, K.I.D. says that's plenty of water for your lawn.
"In most cases, if your circuits are on for 30-40 minutes a days, two or three times a week, that should be more than adequate fort your lawn."
Still have questions? Try their website: www.kid.org