The Discovery Fire is 25 percent contained but growing at 3,600 acres
Posted:
Updated: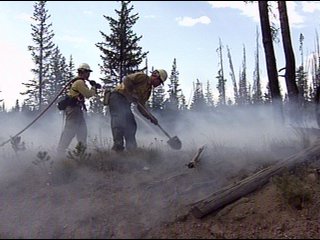 YAKIMA, Wash.- The Discovery Fire at the State Ahtanum Forest is now at 25 Percent Containment. Hundreds of firefighters are working to get the fire contained by August 15.
Firefighters plan out their attack. Keep timber wet, patrol the area and put out all small fires that are torching. For nine days, more than 600 people have been working on this.
"We've been trying to establish some control lines and burning those out and the wind has not been in our favor with burnout so it's slowed our progress," said Steve Sabo from the Central Washington Risk Assessment Team.
Weather plays a big role. In this case, the recent cool temperatures have helped firefighters keep these logs from re-igniting and flames from spreading.
Firefighters say the fire is currently at 25 percent containment. Firefighters are working on putting out the main fire but also trying to put out small spot fires.
We took some aerial shots of the wildfire that is burning more than 36 hundred acres.
Firefighters say one challenge is bugs. They live on this timber, so when the logs catch on fire, they go up fast.
"Spreading ambers from the torched trees and fires spread been pretty significant at time," said Steve Sabo.
So far, there are no threatened structures or injuries. What you can see at the forest is clouds of smoke and burnt logs. The Department of Natural Resources sells some of the logs and donates 70 percent of the money to local public schools. While some of these trees may survive the fire, some may not and this could have a lasting impact.
"Concerned because we will be using revenue when marketable timber is damaged by fire, damaged land to the point where it's difficult to replant," said Bob Redling from the Department of Natural Resources.
At this point, DNR officers say they don't know how much of the forest is destroyed or how much is salvageable. Firefighters will continue to put out the wildfire and hope to have it contained by August 15.