Petitions in the mail for Foursquare Hochrein annexation
Posted:
Updated: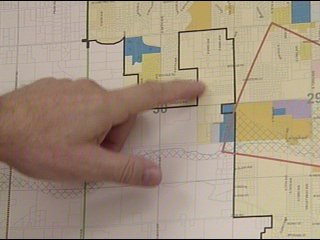 YAKIMA, Wash-- Petitions went out Monday to homeowners in the most recent neighborhood proposed for annexation. West Valley is a mixture of rural land and new development.
The City of Yakima continues to grow westward.
"The only areas that can be annexed be the City of Yakima are urban or rapidly urbanizing, which means they are moving away from a country rural atmosphere," said Bruce Benson, city supervising planner, City of Yakima.
For every farm animal you see in West Valley, chances are there's also a newly constructed home. But, for some reason a pocket of land around South 83rd Avenue remains county.
Which, is why some residents are asking the city to annex their neighborhood. It's called the Foursquare Hochrein annexation.
"One of the reasons is for continuity of service, because since we're county the county police would come here, but if we're in the city like everyone around us we'd have continuity of service," said Jan Delfel, West Valley homeowner.
The 142 acre proposed Foursquare Hochrein annexation is surrounded by city on three sides.
City garbage and sewer services are another draw for homeowners. But, annexation doesn't just happen, it's a petition process regulated by state law. Homeowners or developers initiate the process, not the city. Enough property owners have to agree to annexation.
"So there's two things that need to be signed the notice and the petition," said Benson.
Benson said there are cases where homeowners don't want to be annexed---usually people who consider their property to be rural.
The petition needs to signed by 75% of the areas assessed value, before city council can vote for or against annexation. And again those petitions should be reaching homeowners sometime this week.