How to get KNDU or KNDO's over the air signal for free
Posted:
Updated: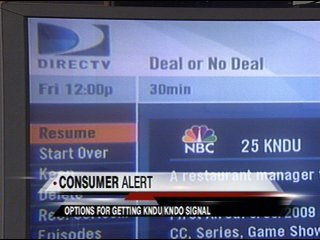 KENNEWICK, Wash.-- Many of our DirecTV viewers are sounding off about the switch to only carrying Yakima news. If you miss your local news, there are other ways to get it for free!
Whether you are a KNDU viewer on DirecTV and you want your local news back or you are simply interested in getting us for free, you can get our signal over the air. "Over the air" means you can get us without going through your satellite or cable provider, just our regular digital signal. You just need an antenna, a digital TV, or a converter box.
Also, you can keep your provider, or get rid of them, and add us over the air and it won't cost you anything. It's just a few extra clicks of the remote, but the easiest way to stay up to date with what's going on in your neighborhood.
KNDU's Production Manager, Jim Tippett, says, "Just because DirecTV decided not to carry KNDU's signal, that doesn't mean the signal isn't in the market. If you have an antenna, if you have a converter box, or digital ready television, all you have to do is tune us in off the air. High definition will be right there. In fact, it will look better because it's less compressed."

One of our viewers has already e-mailed us about how happy he is since ditching cable and satellite, and started just getting our signal off air. The anonymous viewer says, "Hey, we cut the wire and couldn't be happier and everyone we've had over to the house and seen our picture has also cut the cable."
Also, our over the air signal will be stronger in the next few weeks. We're turning our transmitter on full power, so people in our outlying areas will be able to pick up our digital signal.