New agreement made in Hanford clean-up deadlines
Posted:
Updated: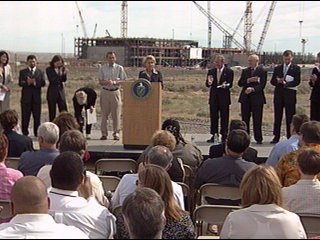 NORTH OF RICHLAND, Wash. - New cleanup deadlines are announced for the nation's most contaminated nuclear site ... Hanford.
The agreement was announced after U.S. Energy Secretary Steven Chu toured the Waste Treatment Plant Tuesday.
In November of 2008, the State of Washington filed a lawsuit against the Department of Energy for not meeting cleanup deadlines. After working together, they decided a lengthy lawsuit would hurt more than it would help.
"It is a great day for the Columbia River, it's a great day for the Hanford community, for the state, the Pacific Northwest and the country in a whole," said Washington Governor Christine Gregoire when the announcement was made.
The U.S. Department of Energy, the Washington State Department of Ecology and the U.S. Environmental Protection Agency agreed on a lawsuit settlement against DOE for not meeting clean-up deadlines.
"Every year critical deadlines were missed, deadlines to clean up roughly 53 million gallons of mixed highly radioactive and hazardous waste at Hanford," said Attorney General Rob McKenna.
A trial was scheduled for early Spring of 2012, but the TPA parties restarted negotiations and created new goals.
"Meeting clean-up goals like the ones set forth today, require a sustained investment that means a constant budget, year in and year out," said Washington Senator Patty Murray.
The Vit plant that U.S. Energy Secretary Steven Chu toured Tuesday will need to be operational by 2022. All Hanford tank waste in the Waste Treatment Plant needs to be cleaned by 2047.
But U.S. Energy Secretary Steven Chu expects more.
"These deadlines are the fastest we can achieve in a safe and responsible manner with today's technology. However, I'm not satisfied," said U.S. Energy Secretary Dr. Steven Chu adding the need to pursue new technologies to make the work go faster.
Before everything is finalized, each Tri-Party agency will consult with tribal nations and conduct public comment meetings to get the public's views on the new agreement. Those will begin in September of 2009.