Valley's wine industry keeps spreading its roots
Posted:
Updated: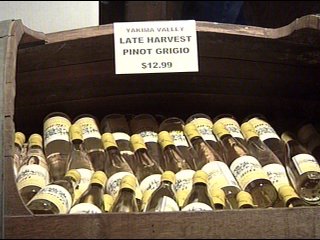 RATTLESNAKE HILLS--Continuing KNDO's 50th anniversary series looking at people, places and things that have changed the Yakima Valley since we began broadcasting in 1959. This week, we take a look at the valley's wine industry.
The Yakima Valley sees more than 300 million tourists each year, many to visit the area's wineries. The wine industry's also responsible for a large portion of the 3,500 tourist-based jobs in Yakima County.
Fifty years ago, Eaton Hill Winery was a tomato cannery, and Yakima Valley wineries were hard to find.
Today, they're everywhere you look.
So what's behind the explosion?
"We're successfully growing beautiful grapes," Jo Anne Stear, Eaton Hill's owner, said. we're successfully making delicious wine that's standing up to California, France and anybody else that wants to get into the game. "
Eaton Hill celebrating its 20th year selling wine. They've watched dozens pop up since they opened, and there's really no sign of a slowdown.
Even a dragging national economy can't slow the valley's wine industry. One winery bottled its first vintage just a few months back.
Knight Hill Winery isn't even fully built yet, but that hasn't stopped them from jumping into a crowded market.
"[To succeed] we have to offer number one, good wine," owner Terry Harrison said. "But, we also have to offer a fun experience so people want to come back."
Wineries bring millions of tourists and their wallets to the Yakima Valley each year. Despite competition, Harrison and Stear think there's room to grow.
"The Yakima Valley affords us the ability to be a niche business," Harrison said.
"We don't see an end to it," Stear said. "You might say, 'don't you worry your customers might be divided among too many people?' No, there are lots more [potential customers.] It's not a zero-sum game."
Stear compares the Yakima Valley now to California's Napa Valley 50 years ago. She sees no reason why wine grapes won't keep spreading their roots.