Cats take over Kennewick house
Posted:
Updated: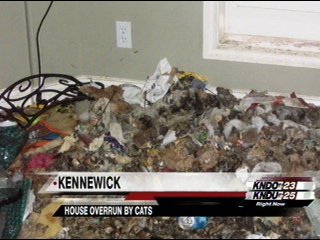 KENNEWICK, Wash. - A house is taken over by cats while their owner leaves them alone for months.
It happened at 1204 South Jefferson Place in Kennewick. It looks like a nice home on the outside, but it's what's inside that took Animal Control authorities by surprise.
Cat feces covers the floor, cat hair and garbage are scattered everywhere.
"We could smell the odor three houses down," said Tony Valdez with Kennewick Police.
Officer Valdez said the mess was discovered by an off duty firefighter walking door to door handing out political campaign fliers on Tuesday. He reportedly noticed a swarm of flies in the doorway and an ugly smell.
Police questioned if a dead body was rotting inside. After entering the home they found over a dozen cats had taken over every corner.
"The female that was living in the home tried to go into business with another person to try to rescue cats. They started to collect these cats. The partner left and the cats just kind of overwhelmed her and she just left and moved to a different place," said Valdez.
Kathryn Riding who was living in the home was given 3 days to get the cats out of the house and into a safe home.
Thursday was the deadline, and authorities went to the home around 2:00 p.m. to check on the progress.
"Due to the conditions of the home, the requirement was the home had to be cleaned up for the animals to be able to maintain here. It has not been completed," said Angela Zilar with Tri-Cities Animal Shelter and Control in Pasco.
Rider voluntarily gave up the cats to Animal Control. It's now up to her to clean up what's left behind.
Animal Control took six cats out of the house Thursday, and are performing a health assessment on them.
With the help of Columbia Animal Rescue Effort, or C.A.R.E, Rider was able to find homes to the other cats over the past three days.