Soccer legends hope to make impression on local youth
Posted:
Updated: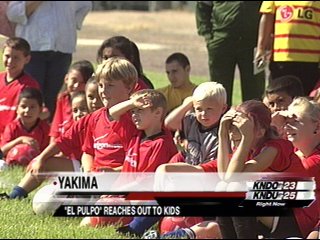 YAKIMA--Getting kids involved in soccer. It's a goal some parents say isn't just about a sport, but also teaching kids important life lessons.
Two soccer legends came to Yakima for a special clinic Sunday.
More than 200 stars in the making jumped, stretched and dribbled at Marquette Stadium Sunday morning.
For the kids, it's all about the soccer.
But, there's more benefits than a good workout.
"This is something really good," parent Consuelo Salazar said. "It's very educational, it's motivating the kids, it's giving them something to look forward to."
Martin Zuniga might not be the most well-known guy in the United States, but in Mexico the former goalie is known as "El Pulpo"--The Octopus--the star netminder who led Chivas--Mexico's version of the Yankees--to a Mexican league championship in 1997.
In a community with a large Hispanic population, he's an athlete many want their kids to look up to.
"It's really hard to find good role models and somebody to encourage [children] and to go set goals for themselves," Salazar said.
It's a role Zuniga says comes with the job.
"It's a responsibility now," Zuniga said. "I take this very seriously. [Soccer] is a way for the kids to get their minds off other bad stuff and get them into a good atmosphere."
Zuniga and former American player "Soccer" Tom Mulroy focused on drills that kids can do in their backyard with friends or by themselves.
The clinic probably won't propel anyone to a pro career, but if it keeps kids on the pitch and off the streets, then it's a success.
Zuniga thinks soccer is also a great way to break boundaries between the different cultures present in Yakima, where things can often get lost in translation.